International Report | Euro Qualifications! Chermiti Scores! Onana Sees Red!
Yet again another international break, and Everton have a handful of players that participated in their respective countries' international matches. Let's see how our Blues faired in their matches.
Jordan Pickford – England – Pickford would only play the final match of this break after Sam Johnstone received the nod ahead of him for England's friendly match against Australia. Pickford would play between the posts against Italy in a Euro 2024 Qualifier Match. England went on to win 3-1. Pickford had an average game but not a boring one; England's defence would fail Pickford and allow Italy to score a tap in from inside the six yard box. Pickford would go 3/4 on saves, bar that one goal, but his passing stats would be one to shy away from. Pickford only completed 41% of his long balls (9 of 22) and he completed 40 of 53 passes in total. England has qualified now for Euro 2024 with their win over Italy.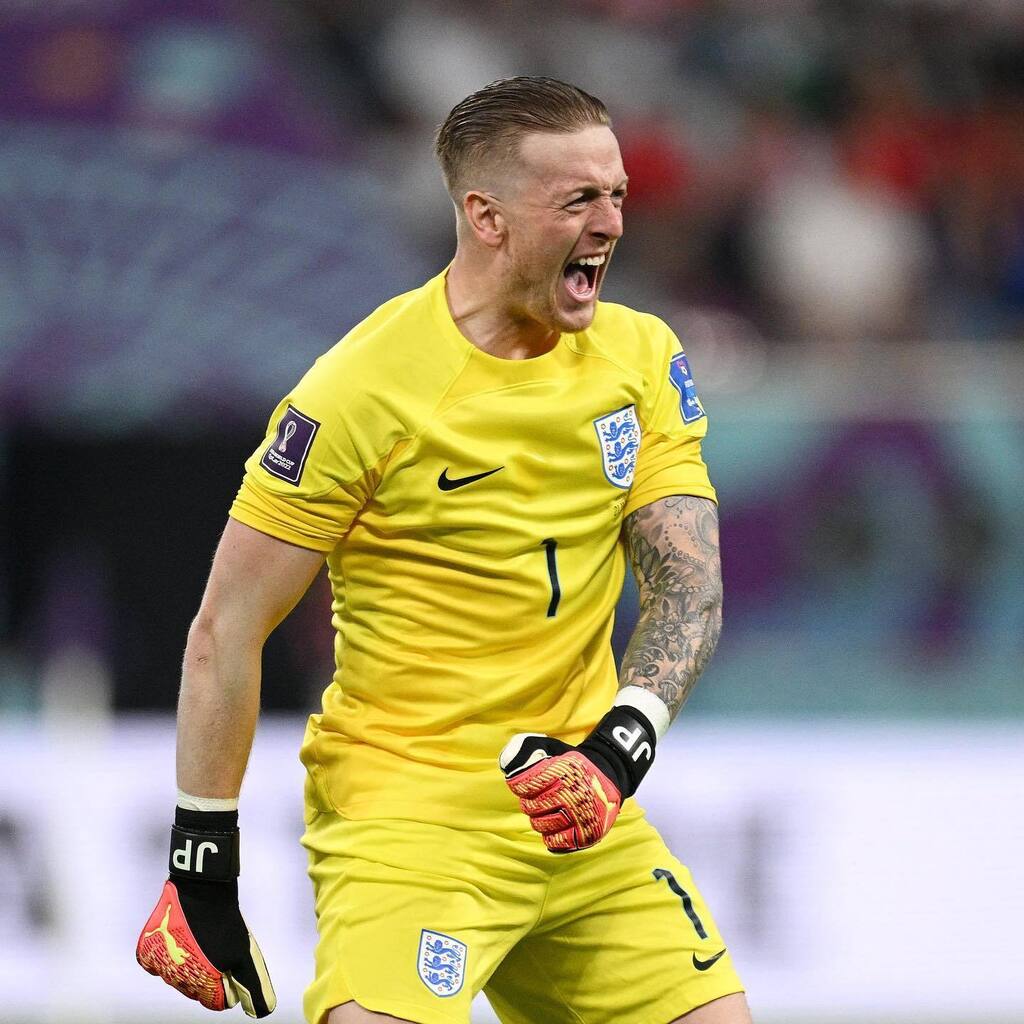 Nathan Patterson – Scotland – Patterson started both of Scotland's matches against Spain and France, neither which were easy matches at all. Patterson would play 46 minutes in the Euro 2024 qualifier against Spain where he certainly looked the part, Spain won the match 2-0 . He looked quite comfortable on the ball and would impress the eye. He played very smart and safe with the ball being dispossessed a total of zero times. Defensively he was stout and totaled five recoveries and four defensive actions.
Again, Patterson would look up to it in Scotland's friendly match against France but the quality of France would eventually be too much to handle for Scotland. Defensively speaking, Patterson would struggle through periods of the game, but on the attack, Patterson was progressive and looked to move the ball forward and into the box. He would send five balls into the final third and tally one chance creation in his 89 minutes. Scotland lost 4-1.
Amadou Onana – Belgium – Belgium would meet Austria in their first of two matches. Onana started the match but did not see the final whistle. Onana was sent off in the 78′ after collecting two yellows. The second yellow was quite soft and seemed undeserving.  Austria pulled a goal back after Onana was sent off making it 3-2 with less than 10 minutes left of play, Belgium would hang on to a one goal lead. Onana caused trouble in the midfield having won seven duels and nine defensive actions within the midfield. Onana is playing box-to-box for both Everton and Belgium, and in the past few weeks and months, he has really improved his game in all aspects.
The second Belgium match would be cancelled at half due to a shooting that took place only a few miles from the stadium. Condolences to the victims involved. Onana and Belgium have now qualified for the 2024 Euros. A massive stage for our young midfield maestro.
Jarrad Branthwaite – England U21 –Branthwaite helped dismantle Serbia in their UEFA EURO U21 qualification match. He would play calm and collected for the entire 76 minutes he would be on the pitch. England would win 9-1.
England in their second match Vs. Ukraine would leak three goals including a 94th minute winner. Branthwaite would not be directly responsible for any of the three goals. He dealt with the danger he had to deal with and did it well, but overall England U21's as a unit would allow Ukraine to score three quality goals. The U21 UEFA EUROS competition will take place in 2025.
Vitalii Mykolenko – Ukraine – I spoke highly of Myko in a few of my articles and he justified my praise with two back-to-back performances of pure quality. North Macedonia were the first of Ukraines two Euro qualifiers, Ukraine would control and dominate in a 2-0 win. Mykolenko played absolutely fantastic and really aided Ukraine in their domination. Mykolenko would clear a total of five balls and have seven defensive interventions, but he would only complete just over half of his duels.
Malta tried getting in the way of Mykolenko, just to be torn apart by the man himself. Mykolenko would pick up the man of the match award versus Malta. His numbers from this game are ones he will remember, maybe his best game for his nation thus far in his career. I will list his stats in bullet format below to show the vast collection of stats he accumulated against Malta:
Minutes played-90
Goals-0
Assists-1
Total shots-1
Accurate passes 77/90 (86%)
Chances created-2
Expected goals (xG) 0.02
Expected assists (xA) 0.05
xG + xA0.07
Attack
Blocked shots-1
Touches-108
Successful dribbles 1/2 (50%)
Passes into final third-15
Accurate crosses 0/1 (0%)
Accurate long balls 5/10 (50%)
Dispossessed-0
Non-penalty xG0.02
Defense
Tackles won 4/4 (100%)
Blocks-2
Interceptions-1
Defensive actions-7
Recoveries-10
Duels
Duels won-7
Duels lost-2
Ground duels won 5/6 (83%)
Aerial duels won 2/3 (67%)
Was fouled-0
Fouls committed-0
Take a bow Myko!
Ukraine have not yet booked a ticket for Euros 2024, but I do expect them too. They have a lot of talent within the squad and it would be a disservice to the viewers if Ukraine did not participate.
Youssef Chermiti – Portugal U20 – Chermiti and Portugal would have two matches in their U20 elite league. Germany would continue their streak of dominance against Chermiti and company. Germany held the game within their grasp and kept it a 2-1 scoreline after an interesting first half. Germany is by far the favorites and have shown to be worthy of that title.
Portugal would play England in their final match of the break. England could not muster enough quality to overcome the speedy Portuguese barrage. Chermiti would take his chances when they fell to him, playing aggressively and direct, Chermiti would eventually find the back of the net in their 2-1 win over England.
About The Author